2018 Outstanding Environmental Peace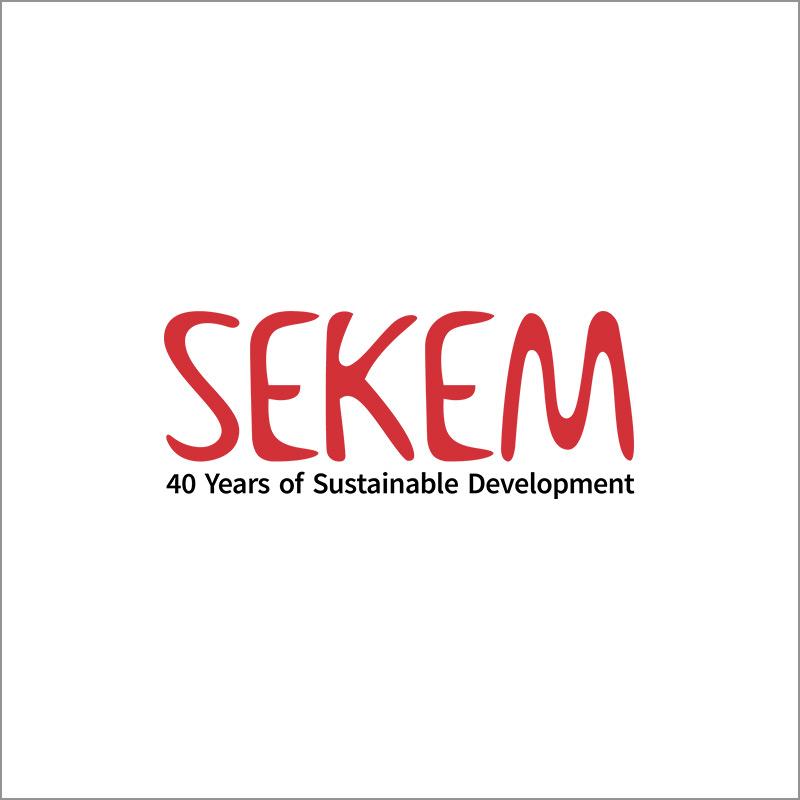 2018 Outstanding Environmental Peace
SEKEM
The Luxembourg Peace Prize recognizes SEKEM as an initiative that was founded with the vision of sustainable development and giving back to the community. It aims to develop the individual, society, and environment through a holistic approach which integrates ecology, economy, societal and cultural life. Today, the vision that brought Dr. Ibrahim Abouleish to dig the first well in the vast desert land still resounds in all of SEKEM's activities. Like a compass, it's vision, mission, and values guide it in the everyday work in all SEKEM institutions. Sustainable development towards a future where every human being can unfold his or her individual potential; where mankind is living together in social forms reflecting human dignity; and where all economic activity is conducted in accordance with ecological and ethical principles.
CEO Helmy Abouleish was elected to be the fourth international National Adaption Plan Champion in April. This new initiative was initiated by the United Nations Expert Group for Least Developed Countries in order to provide recognition to eminent personalities in the field of climate resilience. The NAP Expo is the largest UN event on climate adaptation held annually and addresses good adaptation practices and international support modalities as experienced by developing countries. The main objective is better awareness of good practices of resilience and support for adaptation action across different spectrums, systems, and sectors.
In cooperation with the World Future Council (WFC), Heliopolis University for Sustainable Development (HU) hosted a high-level conference "Solutions for Land, Soil, and Food in Africa." The April event took place in Cairo and received a huge media attention. International experts and high-profile guests came together and worked on a declaration about the sustainable development of lands, soils, and food production in Africa.
Over the years SEKEM has received worldwide acknowledgement for an outstanding business model. Here are just a few of those awards as well as Medal of Honor from many institutions:
"Land for Life Award 2015" by the United Nations to Combat Desertification;
"One Business Community, Equal opportunity Seal" by UN Women and World Bank;
"Award for Excellence in Positive Change" by the Global Thinker Forum;
"Business for Peace Award 2012" by Business for Peace Foundation and the International Chamber of Commerce;
"New Sustainability Champion/Sustainability World Leader" by the World Economic Forum;
"Medal of Merit" by the German Federal Government;
"Ethics in Business Award for Outstanding Individuals" by the European Parliament;
"Member of Honour " by the Society for Healthy Food, Germany;
"Outstanding Pharmaceutical Performance" by the Egyptian Pharmaceutical Syndicate;
"Outstanding Social Entrepreneurship" by the Ashoka Foundation, USA;
"Outstanding Medical Performance" by the Egyptian Medical Syndicate;
"Outstanding Drug Research Performance" by the Egyptian Health Ministry;
"Right Livelihood Award" (Alternative Nobel prize) by the Right Livelihood Award Foundation;
"Outstanding Social Entrepreneurs 2003" by the Schwab Foundation;
"Medal of Scientific Excellence in comprehensive research cooperation" by Cairo University;
"Award of Honor" by the Ashoka Foundation in the Arab World.
About SEKEM
In 1977, Dr. Ibrahim Abouleish started the SEKEM Initiative on an untouched part of the Egyptian desert (70 hectares) 60 km northeast of Cairo. Using Biodynamic agricultural methods, desert land was revitalized and a striving agricultural business developed. Over the years, SEKEM became the umbrella of a multifaceted agro-industrial group of companies and NGOs, including different educational institutions and a Medical Center. Today, SEKEM is regarded as a leading social business worldwide.
After experiencing two completely different worlds, European and Egyptian culture, the vision of SEKEM appeared in Dr. Ibrahim Abouleish's mind. When he then bought desert land to realize his dream and build up a sustainable community, he was called crazy. Together with the support of some other dreamers and believers, however, he realized a small miracle in the desert. Helmy Abouleish, Dr. Abouleish's son, and most dedicated supporter, now serves as Chief Executive Officer.
In 2003, the Schwab Foundation awarded Dr. Abouleish as one of the world's outstanding Social Entrepreneurs. That same year, SEKEM and Dr. Abouleish received the prestigious "Right Livelihood Award," also known as the Alternative Nobel Prize. The awarding committee stated that "SEKEM demonstrates how a modern business model combines profitability and success in world markets with a humane and spiritual approach to people while maintaining respect for the environment."
Since the very beginning, SEKEM has understood that its great vision could only be realized through the support of a network of strong partners. Therefore, since 1977 SEKEM has continuously striven to foster a strong network of dedicated partners with who to work with in a fair and transparent way. Building partnerships based on mutual trust is important not only in private but also in economic life. SEKEM would not have been possible without long-standing cooperations that have been developed over the years are at the roots of SEKEM's success today.
For additional information about SEKEM please visit www.sekem.com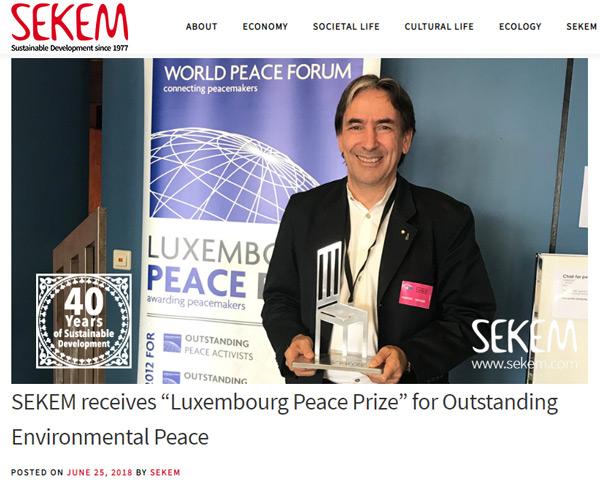 On June 22, SEKEM had been awarded the 2018 Outstanding Environmental Peace Prize during the Luxembourg Peace Prize ceremony. The "Schengen Peace Foundation and the "World Peace Forum" recognized SEKEM for its commitment to sustainable development with an integral dedication. The prize for Outstanding Environmental Peace seeks an individual or organization which builds peace directly or promotes culture of peace via environmental initiatives or practices. 
2020 Register to the webinar
This live webinar calls upon some of our Laureates, past and future, to provide an analysis of the challenges facing our world today, and puts forth recommended success factors to efficient, long-term peace for all.