OUTSTANDING PEACE ACTIVIST
OUTSTANDING PEACE EDUCATION
OUTSTANDING PEACE ORGANISATION
OUTSTANDING PUBLIC PEACE EFFORTS
OUTSTANDING PEACE SUPPORT
OUTSTANDING PEACE TECHNOLOGY
OUTSTANDING YOUTH PEACEWORKER
OUTSTANDING PEACE PROCESS
OUTSTANDING PEACE JOURNALISM
OUTSTANDING ENVIRONMENTAL PEACE
OUTSTANDING ART FOR PEACE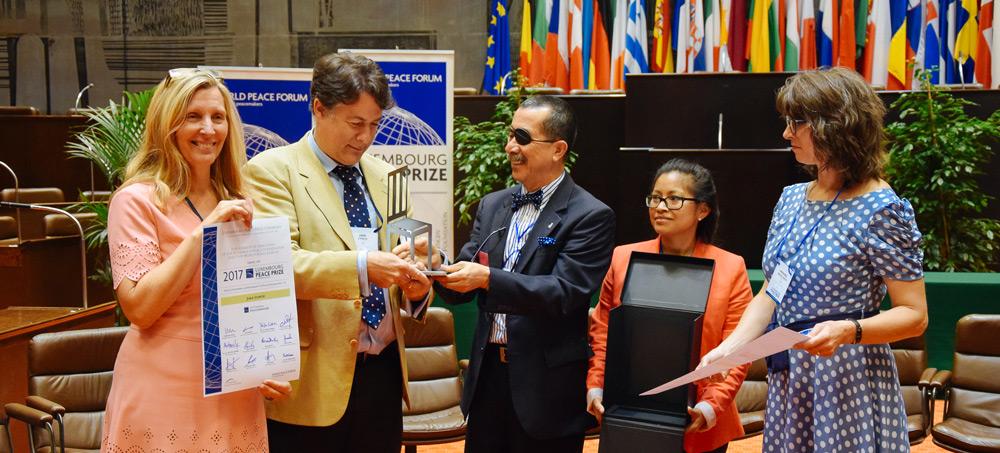 JURY
A global selection panel / advisors consists of respected, admired and extraordinary people who have made extraordinary contributions to sustaining peace in the peace field globally. This includes accomplished scholars, practitioners, thought leaders, policy makers and front-line activists from around the world.
We do not disclose information pertaining to the selection process and all information pertaining to this is strictly confidential.
AUGUST 1st
New categories considered & first call for nominations
OCTOBER 1st
Last call for nominations
OCTOBER 1st
Final nomination list circulated
JANUARY 15th
Nominee selection by category through a majority vote of the jury finished.
FEBRUARY 1st
Nominee responses due with regards to accepting
MAY 27th
Award Ceremony for 2020
EMAIL NOMINATION
Anyone may nominate for the Luxembourg Peace Prize Award by emailing the President of the Committee or the World Peace Forum or one of its chapter heads:
nomination@worldpeaceforum.org
Who are you nominating and for which category?
What has the nominee done for peace?
Why does the nominee deserve the Luxembourg Peace Prize?
City and country of work of the nominee.
Date and country of birth of the nominee.
City and country of current residence of nominee.
Your e-mail (for further contact).
CONSIDERATIONS
What LUXEMBOURG PEACE PRIZE seeks in their overall nominations.
The definitions of each category are subject to an internal coding form, which is under revision.
Please consider that we are a grass roots organisation of concerned citizens, 100% volunteer.
Our process is considered, efficient, and can be slow!
If questions, please contact vicki.hansen@worldpeaceforum.org
Gender balance
Ethnic diversity
Spiritual diversity
Global diversity
One or more from Luxembourg or the Tri-country Region
Not all nominations need to be given every year
Youth is defined as less than 35 years old
AWARD
The award is a "PEACE OF PAPER" and consists of Certificate, Award in terms of a medallion or a sculpture (since 2017), invitation to publish in the Global Prospects Journal, potential to nominate youth for Luxembourg University scholarship, and a pledge by the WPF and LPP to promote the work of the Laureate in their work with youth, educators, government, and in social media going forward.